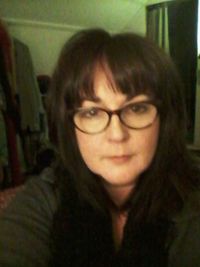 Greetings, Friends!
I'm sorry I haven't posted to my website for quite a while -- my website has actually been "down" for several months, but is now back. And so am I.  :-)   Since I last posted, our family has moved twice -- we relocated from the hustle and bustle of the Washington, DC area to the beautiful, peaceful mountains and valleys of Central Virginia.  Our two oldest kids are now attending Liberty University, and Michael and I are working there full-time. We really love it  -- and we love being near the kids, though we don't get to see them very often because they live on campus and are always busy!
SO, we have purchased an off-grid cabin, tucked away in the forests of Goode, VA.  The cabin is 950 sq ft, runs off solar panels for electricity, is heated with our wood stove, and we get our water twice a week from a friend's well until Michael finishes the water system (unless we move to NZ first…which has been my dream since 2008!)  I have a 1920's 'Magic Chef' oven/stove, which I absolutely love, and we inherited with the house the former owner's
Maremma
 sheepdog "Maccabee".  He's about 150 lbs and adores me!
Because it's nearly impossible to regulate temperature (and because there is just NO room), I had to leave my piano with wonderful friends, temporarily.  But, all is not lost!  To continue writing, I will occasionally sneak away into the University's Music Department "practice rooms".  (The rooms run on my time -- they're open till 1am!)  It's there that I lay bare my soul before my God, and let Him wash me with His word and Spirit.  And I spend hours…and hours…lost in worshiping Him.
Well, yet again someone asked me recently if I have any "new songs".  The answer is always yes -- but I don't really know how to share them with you.  It was in these  practice rooms last week that I decided I would just bring you with me there…and make "raw recordings" of whatever I'm working on when I'm 'with my God' and a piano'.  So, I pulled out my not-so-smart phone, and pressed "record".  
Please note -- these are RAW recordings.  The audio is not going to be great.  I sing off -pitch occasionally.  I hit wrong notes on the piano.  I forget the words sometimes.  It's live performance, but it's also live worship….I am hoping the imperfections will not become a distraction.  :-)
This is a free download on my "Music" page if you want this on your iPod! Please feel free to share it with your church's worship pastor/choir director.  I am hoping to return to NZ  in November to lead worship again for the annual Celebrate Messiah, NZ Simcha conference, and if I'm able to pull it off, I'd love to host a "Hymn Sing" in Motueka where James G. Deck is buried, where we would have a time of worship and I'll sing the arrangements for his hymns that I've written.  So, keep that in prayer  -- that I can work that out!
So, now I bring to you my new segment, "'Hymns By Her' -- Rest in Jesus, by James G. Deck; Music and arrangement by me!  I hope you are blessed by his hymn as much as I am.  Please be sure to leave me comments below, and thank you for supporting my music!