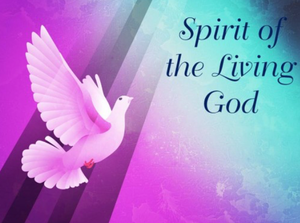 Click on the photo to hear the song!
Many, many years ago I wrote a song called "Spirit Of The Living God". It was a desperate plea from a desperate heart!  It meant a lot to me at the time -- a constant prayer to the God of my life.  I remember playing it one Sunday at church with my worship team.  It was such a treat having a whole band join in!  And then...... I lost it!  I lost the words, chords....everything!  So many times over the years I wondered where in the world I put it, and dreaded the thought of never finding it again. I could only remember bits and pieces of it -- it was horrible not being able to remember!  I did remember we recorded it during rehearsal one evening, but I had no idea where that recording would be.  It was so long ago that it could even have been recorded on a cassette!
Well, lo and behold, guess what happened today?  I FOUND IT!  Yes, while going through boxes I'm putting into storage, I found a box full of "memorabelia" that I needed to sort.  Tucked away inside a folder was my long, lost song.  So, before I lost it again, I decided to record it and share it with you!
It has literally been almost 20 years since I've sung this song. There are parts of it I don't even remember (as you'll quickly hear, as I'm fumbling around toward the end, hitting wrong notes and trying to eek something out that sounds remotely like the original melody!)   I hope you enjoy this raw recording.  You can find the "play" button at the bottom of this post, under the lyrics.
Though the song was written many years ago, it is still a prayer as earnest as ever:  Spirit of the Living God, write Your name upon my heart; for there's no other way, I have no hope for change without your saving grace!
Blessings,
Teresa
 
LYRICS:
Spirit of the Living God
Write Your name upon my heart
For there's no other way,
I have no hope for change
Without Your saving Grace
Spirit of my God, my Lord,
There's something about You I long for
I want to breathe You in,
Come fill my life again
May Your presence be my guide

Holy Spirit, Spirit of my God here I stand
Broken and in need, I am
Asking, I need You to touch me
How I feel it, 
Deep down in the depths of my soul
There is no where else I can go
Desperate, I need you to fill me

Spirit of my God, my King
Take this broken offering
Burn it with Your fire, 
Become my one desire
Be the air I breathe

Holy Spirit, Spirit of my God here I stand
Broken and in need, I am
Asking, I need You to touch me
How I feel it,
Deep down int he depths of my soul
There is no where else I can go
Desperate, I need you to fill me
Restore me, protect me
and hold me, Lord, heal me....

Holy Spirit, Spirit of my body, my soul
There is no where else I can go
How I need you to fill me
Spirit of my Living God